"Your effort pays off" How a girl fascinated by church music became a globally acclaimed organist: Keiko Inoue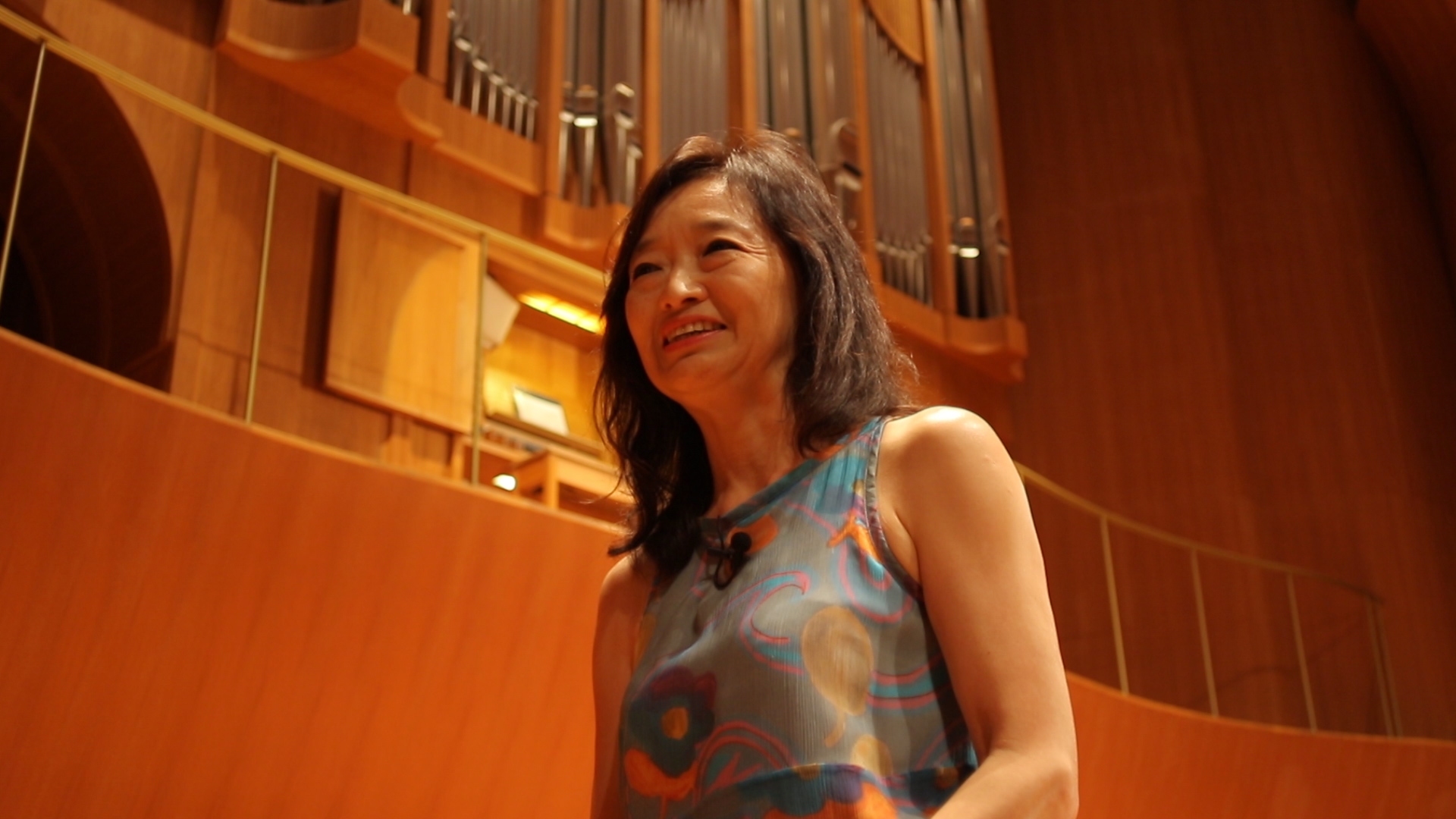 From a huge concert hall, or a wedding in a church, many of you must have heard before the sublime and soft sound created by a pipe organ. Globally acclaimed Japanese organist Keiko Inoue was fascinated by organs from childhood, and became what she is today through continuous effort.
"I've put in hard work, as I couldn't see where I will end up" says Inoue, whose attitude may be something to learn from even for ordinary businessmen like us. As I confirm the sound of the pipe organ through a video site, let me interview what Inoue san has to say.
(Interview by Minoru Sengoku, Public Certified Accountant & Tax Accountant / Organized by KK Floor)
Fascinated by church music
Sengoku(S): Can you share us how you started playing an organ, as well as its charm as an instrument.
Inoue(IN): I started learning piano from 4. There was a mass every morning in the elementary school I went as it was a Christian school. There I gained my interest and got fascinated by the sounds from the organ. Morning mass always started with playing some organ music. I was curious of how our teachers were playing, as well as their music.
In Junior High School, when I chose the elective music class, I took lessons. Afterwards, I joined the Organ Course at the Tokyo University of the Arts. This is when organ was in the center of my life. I've spent a joyful time there, where I was able to exclusively study on matters. I was not necessarily serious as a college student, but was playing the organ whenever I had the time.
S: Afterwards, seems you have studied at a music college in Freiburg, Germany. Was there any significant difference such as environment between Japan and abroad?
IN: First of all, I was able to play various types of organs. I learned a lot from pipe organs set in churches with good echoes. It was indeed because I was in the heartland of the instrument, that I had the opportunity to play those good organs.
I was given good instructions in a good environment, spending all of my time in practice. Each day was a glittering moment like diamonds.
S: You were learning from Zsigmond Szathmary, the world-famous organist for 3 years.
IN: When I heard him play at the NHK Hall in Tokyo, I was heavily impressed, wondering how he was creating his sound. This is how I became interested in his performance, but after I got to learn from him directly, I got the first-hand guidance on how to play certain sounds, and techniques, which was a wonderful experience.
Charm of pipe organs as one's breathing
S: I believe there are people who are not much acquainted with charms of a pipe organ. We have a mindset as something to be played in a church.
IN: History of pipe organs has a great deal of involvement with Christianity. Therefore, it saw its development in church. Because of this, it was not a familiar instrument in Japan. But recently, there are excellent organs in concert halls, making something closer for us Japanese than it used to be.
The part I fell most charming, is the fact that it creates sound by blowing air into pipes, while other keyboard instrument like piano will hit the strings. This is like one's breathing, as we play similar to how we breathe.
We may describe the pipes are singing, or we are making them sing, anyway its sound is similar to as how we breathe which makes the sound more human, where I find it charming.
S: Sounds of a pipe organ makes us feel relaxed, and in relief.
IN: I would also like to provide music with ease or happiness, which may heal our souls.
S: Among many songs, which is your favorite?
IN: I believe it must be Bach. I play it every day. Otherwise, I like the 20th century French musician Poulenc's Organ Concerto. Though intended to be played with an orchestra, it is not often played in a concert. But I like to play it very much.
S: Are there aspects where Japanese performers are better than the rest of the world?
IN: Japanese are delicate and into more of techniques. Also studies very hard. On the other hand, we might not be so good at playing a note required to be played strongly. However, I believe there are no borders in music, so I had never thought of being Japanese meant something different.
Including myself, I sometimes feel we are different than musicians from other countries. For example, when I judge in a concert, I would prepare in advance, obviously be in the venue way ahead of time. In the same situation, judges from other countries would start preparing on the spot, sometimes not even showing up on time. I sometimes felt they are laid back.
S: In Japan, when we talk about pianists and organists, we often think there are more women than men in the field. On the contrary, I heard there are many strong-fitted men organists outside Japan.
IN: In Europe or America, they can earn a living playing in churches. There are plenty of churches to play in.
What you get to realize through continuous practice
S: Are there anything you keep in mind when playing the pipe organ?
IN: My motto is, "Your effort pays off". Whenever I have time, I would either practice or study every single day. It is a lonely way of spending your time, but this eventually pays off when I get to play in concerts.
S: So preparation in advance is very important! Is there a case where you still would feel nervous in a concert despite your continuous effort?
IN: A lot, in fact! There are cases when I feel quitting, or regret accepting the offer. To blow such nervousness away, I spend decent time in preparation. Aside from technical practices, there are things you discover by sitting in front of an organ.
S: Does it mean you discover something by doing the same thing over and over again?
IN: What we are provided, are notes created by composers. We first correctly take in what is written in as a score. Then, we produce the music as something of our own. In course of studying about composers and playing the music, you sometimes get to gradually realize or discover the intention of the composer lying in the music score.
In a state where you may describe yourself playing in the utmost fun
S: So you are practicing every day in order to pull out the "music" out of the scores. What enabled you to continue playing for such a long time?
IN: For me. Playing organ is the "utmost fun". Despite there are many other things that are fun, for me organ is still what I enjoy the most. I can enjoy in the extreme without being bored.
In English, you say you "play" the instrument. This is the same word to describe "to play" as to do something fun. For me, playing organ is a profession and the ultimate "fun" at the same time.
I've said "fun", but can also say I "love" playing the organ more than doing anything else. I came to realize this more being in my age.
S: That is wonderful! You might have had some period when you were struggling. What did you come across until you finally felt it as "fun"?
IN: I've been chasing my dreams all through the years. And finally, I've reached a stage where I can tell myself this is "the utmost fun". It is like as if I reached where I am without knowing what is going to happen, after continuous attempts against what I face every time. I may have been able to continue so hard, maybe because I didn't know what would have happened.
Whenever there was an offer to perform, there were times when I felt uncertain if I can really do or not. I studied, practiced, succeeded, and went on to the next. It was just a continuation of this over and over again. I was just doing what I was told to do, and was very fortunate as well.
I was fortunate to be supported by people around me, and to have an audience who would come to listen. Our work will only count in front of an audience listening to us play!
S: Any point you want to make by playing pipe organ?
IN: Obviously I would like to give hope, joy of living, and courage through my music. My music activity is reaching a stage where I may compile my past work. In 2018, I will be performing at the famous Frauenkirche at Dresden, Germany. I also am planning a concert tour in Slovakia, which I am already looking forward to it from now.
S: Can you leave a message to those who are going to start playing pipe organs from now?
IN: Please play with high hopes, and enjoy. It is a lot of fun when you are moving forward trying to pursue your dreams. And music is a universal language. I am happy to be given this language called "music" which could be understood throughout the world. Hope I may continue sharing music with everyone, and together feel the joy.
(Profile)
Keiko Inoue / musician, organist
Graduated from Organ Course at Tokyo University of the Arts, later M.D. from its graduate school
Later graduated University of Music Freiburg Solo Course, passed the State Exams of Music Performance
Invited from various concert halls in Japan as soloist
Also performing in orchestras in both Japan and abroad
Released 10 CDs from Japan Columbia label
Guest performance at NHK and other TV and radio programs
Attending music festivals worldwide such as Germany, France, Denmark, Switzerland, U.S., Belgium, Czech Republic, Poland, Finland, and Hong Kong
Judge in international organ competitions in Russia (2013), and Lithuania (2015)
Hosting organ lessons, producing concerts, collaboration with different genres of music
Organist of Megumi Omori Church/United Church of Christ
URL: http://keiko-i.com/