"I'd like to spread the traditional culture of Japan." The president and CEO of Masumi Tokyo, Mr. Yasushi Yokoo ~ His consuming vision is to pass on the HYOUSOU culture. "Make genuine things passionately." ~
camera_alt (BYOUBU is one of the representative mounting methods which is considered both practical and artistic.)
Since its establishment in 1968, "Masumi Tokyo" has been selling Japanese traditional paper called WASHI, mounting materials and Japanese interior materials for wholesale and retail. Since becoming the company's president in 1997, Yasushi Yokoo has also been running workshops, events, and galleries. He has given high priority to promoting traditional Japanese culture. He has also challenged his company to adapt to current trends, such as collaborating with a famous chocolate company in the United States. Mr. Yokoo's motto is: "Always make genuine things passionately."
Mr. Yokoo's consuming vision is, to pass on to the next generation the traditional Japanese culture that he has inherited.
(Interviewer: Shuusaku Hayakawa, a management consultant / edited by Furoa co., Ltd.)
The general public knows little of the "HYOUSOU(mounting) culture"
Hayakawa: About 1500 years ago, "HYOUSOU culture" was introduced to Japan from China along with Buddhism, and then developed in unique ways and passed on to succeeding generations, but generally there is little known about it. Since not many people know what "HYOUSOU" is, could you give us some specific information about "HYOUSOU"?
Yokoo: HYOUSOU(mounting) is a method used to protect traditional artwork such as Japanese paintings and calligraphies. This method uses KIREJI(cloth) and WASHI(Japanese traditional paper) to make KAKEJIKU(hanging scrolls), MAKIMONO(scrolls), BYOUBU(folding screens), and FUSUMA(wooden framed paper covered sliding doors). It was originally part of the Buddhist culture in China, where they made scrolls out of copied sutras. At that time, drawings of Buddha were used as a substitute for statues. Also in the same era, the culture surrounding the tea ceremony was expanding in Japan, and KAKEJIKU (hanging scrolls) became one of the most important integral parts of tea ceremonies. During the Edo Period, there were many HYOUSOU craftsmen. Their work enriched Japanese indoor spaces, but that has changed with the times. Now the technique is mainly used for restoring valuable cultural property, but it is also being adapted to a wider range of uses. HYOUSOU culture is: "The ultimate harmony" which soothes our minds. Traditionally, it was always a part of our everyday surroundings.
Hayakawa: I get it. I understand that HYOUSOU culture is a mixture of art and nature, with its wooden materials, WASHI papers and KIREJI cloths which create beautiful works of art. As a side note, how did the company name become "Masumi Tokyo"? Does "Masumi" have any special meaning?
Yokoo: Originally the company manufactured FUSUMA(wood framed paper covered sliding doors). There are many patterns of FUSUMA paper. Some are even decorated with gold and silver powders using a special technique. FUSUMA has been among the finest interior art for many generations.
Before the Second World War, we manufactured FUSUMA in Wakayama prefecture and exported our products to Manchuria, Taiwan etc. After the war, there was a big change from traditional Japanese style houses to more Western style houses. While other companies in our industry changed from traditional manufacturing to curtains, carpets, wallpaper etc., our company chose to develop a balance between current interior design and HYOUSOU, and to remain very particular about our Hyousou art. In 1968, "Masumi Ltd." was established.
To be honest, before 1968 I had been working for many years as an engineer in Africa, working with parabolic antennas. Then, my father-in-law decided to go out of business, and I thought, "He doesn't realize what he will be missing out on." So 25 years ago, I took over the family business as its third president. When I started to work as president, I began to have a strong desire to spread HYOUSOU from Tokyo out into the world. Then in 2009, I changed the company name to "Masumi Tokyo". "Masumi" is neither woman's name nor a sake(Japanese wine) brand's name.(laughter) It means: "A mirror that reflects who you really are." "YOTA NO KAGAMI" is a mirror which is one of the three sacred imperial treasures of Japan. It has been said that, "No clouds can cover your heart when looking into the mirror of Masumi." Our company name came from there.

Hayakawa: I would imagine that the market for "HYOUSOU" must be small. Has your business had to go through some rough times? Also, what is the most important aspect of your business?
Yokoo: It takes forever to become an accomplished craftsman, anywhere from 10 to 20 years of continual practice. Hyousou craftsmen keep learning, putting the FUSUMA paper on wooden frames, cutting WASHI papers, and applying glue. After that, they are finally ready to start to do "KAKEJIKU"(a long vertical hanging scroll with a painting or calligraphy on it) which is displayed on the wall of alcoves in traditional Japanese houses. For most people today, it's hard to endure that type of tedious work. Let's say you graduated from Tokyo University as an honor student with a degree in fine arts. I would imagine that mentally, you could quickly understand about Hyousou, but your hands would take decades to master the skill of making WASHI paper, of making cloths, or making cords. It takes acquiring all of those master skills to produce a near perfect piece of work. Our business wouldn't survive without craftsmen passing on their skills. Master craftsmanship is what I value the most.
A chemical reaction will occur when pursuing genuine quality passionately
Hayakawa: I know it became a topic of conversation when Masumi Tokyo produced "Chabaco Box", which was used as a gift box set for "Fran's Chocolate" in their shop in Seattle. It became famous because former President Obama liked it very much. It was a beautiful box for putting chocolate in, and was made with traditional Japanese paper, handmade by craftsmen. It was crafted so that it could also be used to keep tea leaves. Please tell me the circumstances leading to this collaboration.
[caption id="attachment_1865" align="alignnone" width="300"]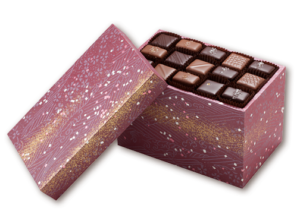 [/caption]
Yokoo: I built a hall from what used to be a mounting factory, using washi paper on the wall. An American singer who sang at that hall was the owner of Fran's Chocolate. It seems that in the past, the owner had boxes made with a "Japanese feel to them", but she wasn't too impressed with them, and she asked me if I could make them. At the time, I didn't know, because I hadn't seen what she was trying to make, plus I only wanted to put my all into an idea if the other person was in earnest, so I needed to ask her: "Are you serious about this?" She was, so I went to Seattle to see the manufacturing process at the factory. I saw that her craftsmen were carefully making each piece, and gluing them very carefully. I could see they were "serious workers". I could feel their craftsmanship.
I asked the owner what she expected of us, and picked three people from among their craftsmen who could assist Masumi's project, and we started making boxes. As for the method of making a paulownia box which looked like a tea box, we used a technique called "Kirazuri", where craftsmen spread gold and silver mica sand powder, which instantly sticks to the paulownia wrapping paper. The harmony of those three craftsmen made such a wonderful box.
The owner was very pleased, and the boxes sold out as soon as they went on sale. The other day I prepared 150 boxes for them, but it still wasn't enough, so we made 75 boxes more.
Hayakawa: So the main point is that your craftsmen produce authentic goods with passion?
Yokoo: Yes it is. I believe when those "passionate, focused" energies unite and meld with each other, a chemical reaction occurs. I also witnessed the craftsmanship of their craftsmen, and as a Japanese, I couldn't make any negative comments about their work. Other people watched and then understood why I chose the best craftsman— those that put their total focus and passion into it. If I do something, I have to do thoroughly. We shouldn't be like, "We can do an ok job. How is it, ok?" After grasping the other person's idea and request properly, we need to respond to it passionately.
Hope to express Japanese culture as an Asian culture
Hayakawa: I heard that Prime Minister Abe gave some souvenirs to Russian President Putin on his recent visit to Japan. One of them was a "paulownia box" and the other was the duplicate of a scroll which used traditional Japanese paper, printed with the picture of a scene when Putyatin arrived at Nagasaki by sea. That Japanese paper is called Honminoshi, and it was registered in World Heritage provided by Masumi Tokyo. This gift has been appreciated by some of the top leaders of the world, because it is a genuine article made by the best craftsmen passionately.
There seems to be more interest from overseas for "Washi" (Japanese traditional paper), and I heard that you are planning a collaboration with the Chinese in Shanghai soon. What kind of policy do you have about overseas expansion, including Asia?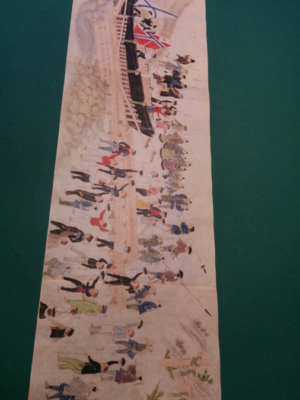 Yokoo: From now on Asia will be very important. Even if it is politically different, it will eventually become one through culture and art. I hope that Asian countries and Japan will become one and that they can transmit the culture and art from Asia out to the world.
Originally, all Japanese culture came from the continent. There are 8 instruments currently used in GAGAKU (a type of Japanese classical music), but there were 20 instruments when first introduced to Japan from China some 1300 or so years ago. Gagaku was played throughout Japan for many years, and while 20 instruments were first introduced, only eight remain.
In a sense, the fact that the original 20 was reduced down to 8 shows how Gagaku matured in Japan into its own unique form. In Japan, Gagaku had the ability to evolve and mature over a period of more than 1300 years.
Now, we are returning to Asia and together, we can think again. I think that people from all over the world will surely recognize and appreciate our culture, if we show to the world "from Asia" once again and what Japan has made over the years. I recently received a message from The Shanghai Art Museum saying, "We want you to teach Japanese washi techniques and products." I will go consult with them in April to see if I can introduce Hyousou to the world from Shanghai. As you see, it is Japanese traditional technology that holds the key. It is a technology which the Japanese have inherited and persistently kept. Unfortunately, each technology exists separately nowadays. It is the time to integrate them. I believe that now is such a time.
Hayakawa: That is a nice view and very interesting.
Yokoo: I am an Executive Director of Yurabi Institute for the Study and Preservation of Japan's Cultural Heritage. We are trying to gather experts in various fields, such as dancers, directors, Japanese painters, calligraphers, and are trying to "produce cultural experiences that people will enjoy."
For example: artists from various fields could go abroad together and produce a united performance. Be sure to hang a huge Japanese painting on the back of the stage and change the hanging scrolls for each song that is played.
Hayakawa: It is important for management to develop their company and to make a profit. However, I think that the ultimate purpose is to leave good things for future generations, which can eventually become part of the culture. Even when building a great building: it's either just another building, or we could integrate our cultural into it. It seems that this is the contribution needed from the heads of business to the future of Japan.
Yokoo: For a while, MENENSA* (The Association for Corporate Support of the Arts) gained popularity, especially in the bubble years when companies invested in a variety of art and the arts in general. After the bubble burst, many companies sold their art and stopped supporting the arts as their financial situations deteriorated.
* MENENSA (The Association for Corporate Support of the Arts) is based on the idea that companies need to contribute to the arts for the sake of the next generation. Corporations put a heavy strain on the environment and our natural and human resources. The artists need to be a part of the labor force in order to make a living, and this deprives society of their artistic contributions. Companies need to provide funds and support for cultural and artistic endeavors as part of their corporate social responsibility.
In China and South Korea, there are companies with great museums. Although some also exist in Japan, there are very few. I hope corporate management will put more emphasis on this, and that the government of Japan will back up such activities.
Hayakawa: Finally, I heard that a big event is being planned in Japan.
Yokoo: At Okamoto Shrine and Otaki Shrine, at Echizen city, in Fukui, there is a festival every May, where the god of "paper" is worshiped and the Japanese Washi is dedicated. Also, 2018 is a milestone year when the 1300th "Great Festival" will be held. At that time, I would also like to have another event, where we invite paper artists from all over the world. Washi plays a very important role in Japanese display culture (Hyousou culture). Through these events, I'd like to awaken and excite people with Hyousou, and to disseminate it throughout the world.
I think that Japan is a wonderfully unique country, unless there are any other similar countries in the world. Is there any other country where the Imperial family has continued for so long? Whether it is Buddhism or Shintoism, both have a lot of wonderful teachings.
"Japan" is a country which took the culture and thoughts from outside, and adapted them to make a unique culture and unique thoughts.
I need to thoroughly understand the traditional artisanship and craftsmanship of our forefathers, not only to introduce them to people overseas, but also to show our own Japanese young people what they need to cherish and pass on to coming generations. From what I'm saying, there may be people who feel that I am putting "the bar high". However, it's not so difficult. When you experience it and get a taste for it, you will understand little by little. When I observe craftsmen practicing these arts, I understand much better, and then it becomes enjoyable. It makes me want to tell others when I'm enjoying something. "I want to talk about culture with people". I believe that what I am working on is a very natural thing to do.
PROFILE
YASUSHI YOKOO (CEO of MASUMI TOKYO CORPORATION)
Paper-hanger Artist, Executive Director of Yurabi Institute for the Study and Preservation of Japan's Cultural Heritage.
1980 - 1993, worked for a major telecommunications company and stayed in the southeastern part of Africa including Kenya.
In 1993, inauguration as CEO of Masumi Tokyo Corporation.
In order to promote the traditional culture of the Japanese traditional culture to the public, we organize exhibitions, performances and workshops in Russia, Shanghai, Netherlands, London, Italy, France, etc., as well as domestically and actively promote cultural exchange.

CORPORATE PROFILE
COMPANY NAME: Masumi Tokyo Corporation
ESTABLISHED: December 2nd, 1968
BUSINESS ACTIVITY : Mounting, wholesale, retail of interior and fusuma materials, mail order, overseas export, exhibition planning (domestic, and overseas), tailoring of hanging scrolls, hand scrolls, folding screens, old document painting restoration, Japanese interior, Japanese item plan proposal, Japanese classroom Masumi Dojo management, Rent a Space (gallery · hall · dojo), planning and sales of natural cotton products
ADDRESS
Head office: 4-5-2 SUGAMO, TOSHIMA-KU, TOKYO 170-0002 JAPAN
TEL: 03-3918-5401
Showroom: 4-6-2 SUGAMO, TOSHIMA-KU, TOKYO 170-0002 JAPAN
TEL: 03-3915-4100