"Pursue service above expectation", The secret behind "the system" which a first-class hotelier with a career transferring among various international hotel chains was impressed:Jun Yoshie, General Manager, The Ritz-Carlton Okinawa
Even among various luxury hotel chains, the Ritz-Carlton is known for its supreme hospitality. They have built a reputation to "impress by exceeding customer expectation" by providing service based on an appropriate estimation of customer demand, gaining confidence from guests all over the world.
Jun Yoshie, who have worked through renowned hotels in Japan such as Akasaka Prince, Park Hyatt Tokyo, Grand Hyatt Tokyo, and Mandarin Oriental Tokyo, now works as General Manager of The Ritz-Carlton Okinawa. We interviewed Mr. Yoshie, who strives day by day to provide the best service in this hilltop hotel where you can view Nago Bay, which is said to be the most beautiful among all the seas in Okinawa Main Island.
(interview by Shusaku Hayakawa, business consultant)
Switching through international hotel chains persuaded by introduction
Hayakawa(H): Seems you are the first Japanese to be assigned as General Manager in the entire Ritz-Carlton Group. Tell us about your career.
Yoshie(Y): It was all about timing rather than effort. I would say I was persuaded through human network, as I do like associating with people.
After I joined Prince Hotels, I was placed at Akasaka Prince Hotel. I've learned a lot there as we were then at the peak of the Bubble Economy.
After I worked 10 years in Akasaka Prince, my first move was to work at Park Hyatt Tokyo in Shinjuku. They were very eager to recruit me due to their opening of venue. Among several indices to evaluate hotel operation such as occupancy ratio or average price, Park Hyatt set their future goal for average price at JPY50,000 per night from their pre-opening stage. Towards this, people around me were warning that to be an impossible fairy tale, and I should not move to this new place.
However, after 2 to 3 years of its opening, Park Hyatt gained its status as the "best hotel in Japan". It was very fortunate for me to be able to work in the position responsible of Sales in such timing.
Following this, I was involved in the opening of Grand Hyatt Tokyo in Roppongi as overall head of Sales and Marketing. Afterwards, I have moved to Mandarin Oriental and then to Ritz-Carlton, both through introduction.
Secret of the inimitable service
H: One thing I can say about Ritz-Carlton through my experience is that your service is obviously different from others. Can you tell us the reason why, including aspects on your corporate philosophy?
Y: We always carry with us a card which we call "Gold Standard". The card includes our "Credo", "the employee promise", "motto", "three steps of service", and "service values". In the beginning of our Credo, it mentions that "The Ritz-Carlton Hotel is a place where the genuine care and comfort of our guests is our highest mission". This exactly describes our corporate philosophy.

Credo:
The Ritz-Carlton Hotel is a place where the genuine care and comfort of our guests is our highest mission. We pledge to provide the finest personal service and facilities for our guests who will always enjoy a warm, relaxed, yet refined ambience. The Ritz-Carlton experience enlivens the senses, instills well-being, and fulfills even the unexpressed wishes and needs of our guests.
Also, there is a system to apply the Credo. One of them is "Success factors". There are five of them, and are ranked in priority.
The most prioritized, is to "strengthen the Ritz-Carlton Mystique". Mystique refers to experiences such as when you speak out "Wow!", with surprise and thrill. We call such cases as "Wow! Story", and to realize them as much as we can, is our top priority.
The last of the five is finance. Maybe in other service operations this may come first, but in our case, it's the last in line.
Second is about our employees, third comes our customers. Perhaps you will not see employees coming ahead of customers in such factors elsewhere. We set in this sequence as if our employees are not happy, they will not be able to make their customers happy. Our staffs who engage with our guests have the leading role in the premises. Above the staffs are the managers, and directors. Role of us managers and directors is to support our staffs.
We Ritz-Carlton pursue to not only satisfy our customers, but to have them engage to something beyond their expectation.
This "engagement" is evaluated into score everyday using an online survey to our customers. The moment our customers reply to the survey, we will be able to see the scores, with their comments.
H: In your career, you have worked in many top-class hotels under international brands. What makes Ritz-Carlton's service special, to be able to continuously serve beyond expectation?
Y: One out of many, is "empowerment", which enables to realize our customer's desires in an instant.
Ritz-Carlton is famous for allowing staffs to spend a certain amount of money under their discretion. The amount of money spent is not so important. If the unique treatment provided to the customer in front of you can fulfill them with pleasure, such engagement may be executed under the decision of each staff.
Let me introduce you some examples.
This is about a story at Ritz-Carlton Osaka. One of our staff decided on his own to deliver glasses for a college professor guest all the way to Tokyo using the bullet train, of which the guest forgot in his guest room.
This other one is from Okinawa. There was a guest who was dining at the teppanyaki restaurant mentioning about a favorite Awamori (an Okinawan alcohol drink). Since our staff was reminded the guest will appear again on the next day, he went to the local liquor shop to buy the Awamori. However, he found out none of the shops around the hotel sold the product. Eventually he inquired various shops around Okinawa, finding out there is only one shop selling the product. He was able to provide it to the guest who appeared the next day, who was very happy.
Such stories will not be seen in other hotels or services. Such irregular incidents would require prior consent of a superior, and anything with additional cost is tended to be avoided.
Guests who ended their stay in the hotel as "satisfactory" are likely to come again in a 50% chance. However, those who was thrilled with gratitude will definitely come back again.
Such customers will not only come back, but would also want to share their experience with others, sometimes even online. This will lead to new range of guests. Through our empowerment, our guests become happy, and our staffs will gain self-confidence.
If you successfully made your guest happy according to your decision, their happiness will bounce back to yourself, making your job more fun. Such structure can only be seen in Ritz-Carlton.
H: When I stayed at the Ritz-Carlton in Los Angeles, I remember the brilliant measures taken when I asked for NBA Basketball tickets. Even at Hawaii, the services at the reception counter or restaurants were so good, making me feel to come back again when visiting Hawaii.
Y: Such system is kept under one unified method throughout the Ritz-Carlton Group around the world. What is actually taking place is also a "system". Through our 90 venues all around the world, we operate this system under the same platform.
When I joined the Ritz-Carlton Tokyo ten years ago, I was really surprised by this system. Even with my 20 years plus experience in the industry, I was thrillingly astonished. Cards exist in other hotels and companies, but they do not function. In Ritz-Carlton, everyone can succeed by following the system.
Consideration is the base for everything
H: There should be customers asking for something in extreme, or making complaints. How do you respond to them?
Y: We have a system to deal such matters as well. We call it "LEARN". We eventually calm our guests in anger through this method.
"LEARN" stands for "Listen", "Empathize", "Apologize" "Resolve", and "Notify". We "Listen" from the guest's standpoint. Then we "Empathize". On above that we will "Apologize" and "Resolve" the problem. We will "Notify" our guest the result. Especially we get the understanding from guests that we are handling the situation properly by reporting on the latest updates. This is important, and leads to the maintenance of relations with the person.
Our ultimate goal is not to resolve an issue when it occurred, but to engage our customers.
In fact, many of our regular guests of our hotels experienced some kind of trouble, or had placed a complaint in the beginning. I have been using the word "system", but all of our actions based on this system comes from our consideration towards others.
H: You have unique training methods as well?
Y: Towards every staff, we will communicate as equal partners. We will not make unilateral instructions. As I have mentioned, we are just supporters, and our staffs have the leading role. In order to realize an environment for them to work under a better condition, managers at Ritz-Carlton pays much attention.
The way we call managers is also unique. For what other hotels call an "executive committee", we describe as the "guidance team". Therefore, we are guides of our staffs.
H: What do you need to be supported by guests for the next 100 years to come?
Y: Though it's the same thing I've mentioned earlier, we have to go back to our Gold Standard, which is our base philosophy. Everything what you need is in it. Of course, it doesn't make sense just to create the ideas, but we must make use of it. We human beings are not perfect. We will definitely make mistakes. Impression of our staffs differ depending on our guests. Therefore, our attitude will not be to aim for perfection, but take importance in doing "better today than yesterday, better tomorrow than today".
H: At the end of this interview, can you leave a message to our subscribers?
Y: Out of the luxurious international brands in Japan, only Ritz-Carlton has multiple venues. In Japan we have in Tokyo, Osaka, Kyoto, and Okinawa. I would like you to come visit us once. We have also decided to open new hotels at Nikko, Tochigi and Niseko, Hokkaido, both in 2020 so please look forward.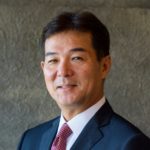 (Profile)
Jun Yoshie (General Manager, The Ritz-Carlton Okinawa)
Born in 1959. Joined Prince Hotel in 1983. Involved in openings of Park Hyatt Tokyo in 1994, Grand Hyatt Tokyo in 2001, and Mandarin Oriental Tokyo in 2004. Joined the Ritz-Carlton Tokyo in 2006 as Deputy General Manager. Appointed as General Manager of Ritz-Carlton Okinawa in 2011.
(Corporate profile)
The Ritz-Carlton Okinawa
1343-1 Kise, Nago City, Okinawa
Access: Limousine bus from Naha Airport (JPY2100 per person)
Mid-size Limousine car: JPY16000 one way, 75 minutes
No. of rooms: 97
Restaurants: Italian, Teppan-yaki, Dining bar, Lounge.
Facilities: Spa, Fitness Gym, Swimming Pool, Neighboring Golf Course
URL: http://www.ritzcarlton.com/jp/hotels/japan/okinawa